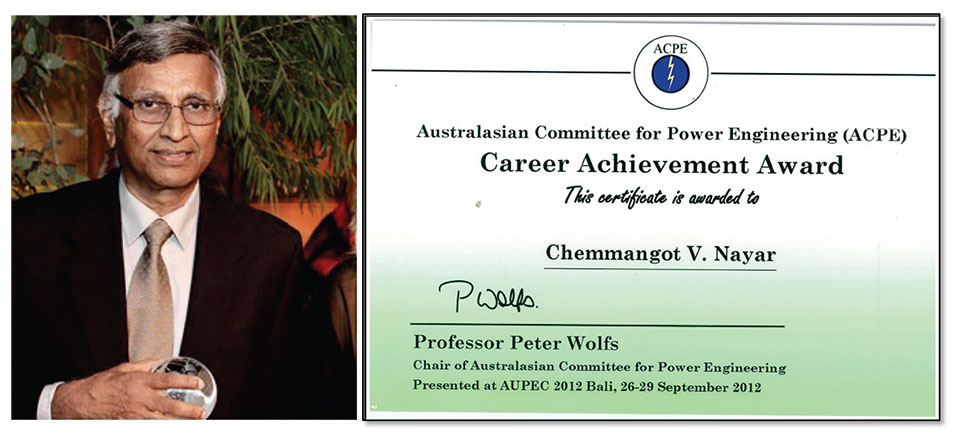 Prof Chem Nayar, Emeritus Professor, Curtin University and Regen Power Managing Director, Erudite Scholar Division of Electrical Engineering, has been named as the at the School of Engineering Cochin University of Science and Technology (CUSAT). The Erudite Program of the Higher Education Council, Government of Kerala, India brings in distinguished scholars from abroad to the campuses of Kerala State Universities to interact with faculty and students in order to promote excellence in graduate research.
The Erudite Programme aims at providing the teachers and students an opportunity to interact with eminent academicians including Nobel laureates. Professor Nayar is currently the Founder and the Managing Director of Regen Group Pty Ltd based in Perth, Sydney and Brisbane in Australia and Director of Radiant Solar Pvt Ltd in Hyderabad, India. Professor Nayar is the first person from Australia to participate in this program. He will be working in close association with Prof. C.A. Babu, Professor & Head of the Division of Electrical Engineering at CUSAT who initiated the steps to get the approval for the Erudite program by the Kerala State Higher Education Council.
Professor Nayar has been involved in several conferences and workshops in India funded by Government of India Technical Education Improvement Programme (TEQIP). There are more than 3000 engineering institutions in India which offer undergraduate degree programmes. However, the number of quality graduates has not been in relation to the exponential growth. Restricted availability of qualified faculty, teaching-learning and training facilities are the reasons behind this problem. There is a wide gap between the quality of engineering graduates required by the industry and those produced by these engineering institutions . The World Bank took keen interest in systemic transformation of the country's technical education system to make it globally competitive and showed willingness to assist the Government of India to launch the Technical Education Improvement Programme (TEQIP) as a long term programme of 10-12 years and in three phases. Professor Nayar was the General Chair for the International Conference on Emerging Trends in Smart Grid Technologies by the Electrical & Electronics Department, College of Engineering, Trikaripur, Kasargod, Kerala, India supported by TEQIP. He was also invited speaker for several conferences /seminars/workshops held in Kerala,Tamilnadu and Karnataka.
Regen Power, established by Professor Nayar, is a leading renewable energy company in Australia having installed thousands of residential and commercial solar rooftop systemsfor on-grid and off-grid applications. India's solar ambitions have received a major boost with the World Bank approving a US $625 million loan to support the installation of rooftop solar power systems across the country. The Government of India's National Solar Mission has set a goal of installing 100 GW of solar capacity by 2022, 40 GW of which is designated for rooftop solar. The World Bank project will be implemented by the State Bank of India (SBI), and will support a range of rooftop solar options; including commercial and industrial PV systems.
Career Achievement Award (2012)
Professor Chem Nayar has been awarded a 'Career Achievement Award' at the 22nd Australasian Universities Power Engineering Conference held at Ramada Bintang Resort Hotel, Bali , Indonesia during 26-29 September 2012. This award recognises the outstanding contributions made by Professor Chem Nayar to the field of electrical engineering, specialising on residential, commercial and remote area applications of solar, wind and hybrid systems. This award was presented by Professor Peter Wolfs, Chair Person, Australian Committee for Power Engineering (ACPE) at the conference dinner held on 28th September.
Professor Nayar's career spans 43 years and his contribution to electrical engineering and sustainable energy place him at the forefront of academia, research, innovation and industry. Professor Nayar is renowned worldwide in the sustainable energy industry for his pioneering contributions in teaching; research and development; and, commercialisation of solar and wind power systems in Australia and overseas. In 1996, Professor Nayar became the first Personal Chair and Professor in Electrical and Renewable Energy Engineering at Curtin University.
Professor Nayar's innovative foresight into the growth in the sustainable energy field resulted in him establishing the Renewable Energy Engineering Masters programme at Curtin University. Since its commencement in 2000, this program has enrolled over 150 students. In 1988 he established the Centre for Renewable Energy and Sustainable Technologies Australia (CRESTA) and successfully managed the centre for 15 years while undertaking extensive research on wind, solar and hybrid systems, both in Australia and internationally. He has supervised 20 PhD and over 12 Masters students and has authored or co-authored more than 90 refereed journal articles, several book chapters, over 150 conference presentations and a number of patents.
Professor Nayar was winners of two prestigious Sustainable Energy Industry Excellence and Innovation Awards in 2011:
The Ambassador Award to for his for his long-standing contribution and commitment to excellence in sustainable research, training and commercialisation.
Product and Technology Award for Variable speed diesel/bio-diesel generator